Our Services
We have varying styles of service at St. Margaret's Church in an attempt to meet everyone's needs.
We have fellowship with refreshments after all morning services.
---
Earlybirds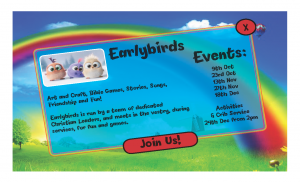 Earlybirds is what we call our outreach to our younger visitors. It tends to take place during communion services.
During Earlybirds, our children are taken out of the service, either into the vestry, or into Betley Primary School, whereupon they participate and generally enjoy Christian games and activities.
The group generally returns back to the service in time to participate in Communion and to "present" their learning back to the congregation.
Parents have the opportunity to accompany children into the group if they so wish.
Further information on what has happened in Earlybirds, can be found in our their Earlybirds Report 2017-18.
---
Praise and Play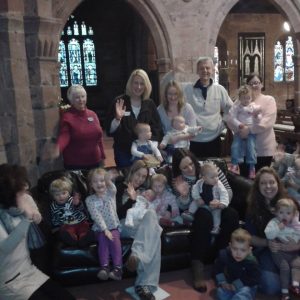 Hosted at All Saints', Madeley, Praise and Play is aimed at pre-school children and their carers.
Sessions run on Mondays, during term time.
It is open to all, and includes drinks and biscuits, songs and stories, craft and chat.
Please feel free to drop in from 9am. Sessions run from 9.30 am until 10.30 am.

Follow Praise and Play
---
Family Worship
Praise, prayer and teaching for all the family, with songs, hymns and children's contributions. We have a play area within the church for babies, tots and parents, and incorporate them into the service.
We also have baby changing facilities in the toilet, and a "breakout" area in the vestry, where you can listen to the service, if you need it.
---
Eucharist or Holy Communion
We hold two types of communion services, a traditional said Communion service from the Book of Common Prayer with a short address, and a sung Communion service in contemporary language with an address and choral contributions.
---
Morning Prayers
A more informal service based around group prayer, typically held on a Tuesday morning in the Thickness Chapel in church.
---
Evensong
A traditional sung evening service from the Book of Common Prayer (BCP) with hymns and address.
---
Morning Praise
Morning Worship in contemporary language with address, hymns and choral contributions.
---
Living Streams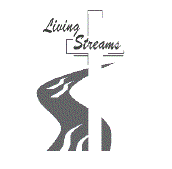 Living Streams is a teaching and healing ministry established 8 years ago to encourage and nurture Christian discipleship, and to promote and facilitate Christian healing. It is rooted in the two parishes but appeals to folk from a wider area and provides more informal worship and prayer led by ordained and lay ministers and a small instrumental group. This ministry is overseen by an Ordained Local Minister. We have two "flavours" of Living Streams services, "Praise" and "with Prayer" which are held on alternating months. Whilst we are dealing with the Covid Virus outbreak Living Steams will be available as an online service.
Living Stream Praise (held at All Saints', Madeley)
Praise, prayer and teaching in an informal but structured setting, with a mix of contemporary worship songs and traditional hymns accompanied by keyboard and small band.
Living Streams with Prayer for Healing (held at St Margaret's Beley)
A Living Streams service with individual Prayer for Healing. One or two church staff members will pray with you about your concerns for yourself or your loved ones if you so wish.
More information can be found in the Living Streams Report to the PCC.