Welcome to St Margaret's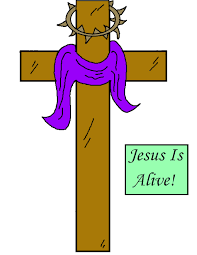 A church for sceptics , seekers , doubters and believers – all with a sense of humour. Well almost! 🙂
We are a child friendly, lively, forward thinking community of Christians drawn from many different denominations and backgrounds. We rejoice in our diversity, yet share the desire to assist one another in discovering our full potential in Christ.
We are also an outward looking church, which engages with the world around us in a variety of ways. Our mission is to help people become devoted followers of Jesus Christ.
We belong to the Diocese of Lichfield in the Church of England, yet welcome you whatever your background.
If you would like more information about who we are, please feel free to come along to a service. We understand that some may find the thought of that too daunting; if you're in that category, then why not join us in the Reading Room one Saturday morning and perhaps try a bacon bap?!? If your not in that category, then join us in the Reading Room anyway!
Wonderful Weekend at Cloverley Hall (March 15 –17th)
It was warm and welcoming, the food was really tasty and we were well looked after by the very hospitable staff.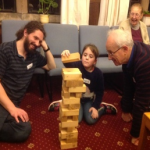 About seventy adults and children from All Saints, Madeley and St Margaret's, Betley, enjoyed this time with thirty people staying for the whole time and another forty who came for the Saturday sessions.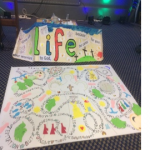 There was plenty of time to relax in the comfortable lounges and just talk, play informal games and enjoy each other's company. Another room was a quiet place for prayer, places set up to help us pray in different ways about things which were important to us.
Bishop Geoff spoke about how so many find it impossible to pray because they do not see God as approachable, forgiving or protective. He shared stories from his background as a street pastor and prison chaplain, showing how those in the greatest need often find it easy to pray. Some people commented on his talks: Thought provoking, It's given me a lot to think about, in a good way.
Saturday afternoon for some, was spent in the heated swimming pool, Children paddled inflated swans and there was happy disorganised swimming. A few went for a walk but came back wet through! Others took photos which were made into a thoughtful presentation of the Lord's prayer at the Sunday morning communion service. Some sang new songs.Another group worked on a Lord's prayer banner, adding pictures of their own experiences of God to it. Saturday evening was a fun games time.
Fantastic opportunities for children and adults to bond with each other.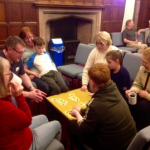 To escape the world and its pressures for a while…l like chatting to new people … getting to know each other… would like to have stayed longer…We'll have to do this again … I'd come back in the blink of an eye!
Hear Bishop Geoff's talks