Parish Magazine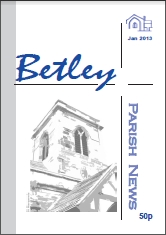 The Betley Parish Magazine is produced by St Margaret's to serve both the Village and the Church and is issued monthly, except for the summer issue which covers July/August.
We aim to bring you news from Church about regular services and activities as well as special events. The inside cover provides names and telephone numbers for the leaders of the various Church activities. At Christmas, Easter and in the summer, there is often a special supplement. The Magazine is also the place to find most Village organisations and events, special acknowledgements and other information, including Parish council issues.
If you wish to make use of the Magazine to publicise your club or fund raising events, get in touch with the editoral team (details below.)
Copy is needed by the 12th day of the preceding month unless otherwise notified.
As well as subscriptions, we receive further financial support from our regular commercial advertisers and this is an important part of our revenue. There is a set amount of space allocated to advertising copy, although, we can often fit in occasional advertisements in the main magazine.
If you wish to subscribe to the magazine, please email your details to the address below.
Non profit making advertisers are not charged.
All profits of the magazine goes towards the funding of the churchyard.
Contact Details
Archived copies
September 2022
April 2021
March 2021
February 2021
January 2021
December 2020