The Tatham Memorial Window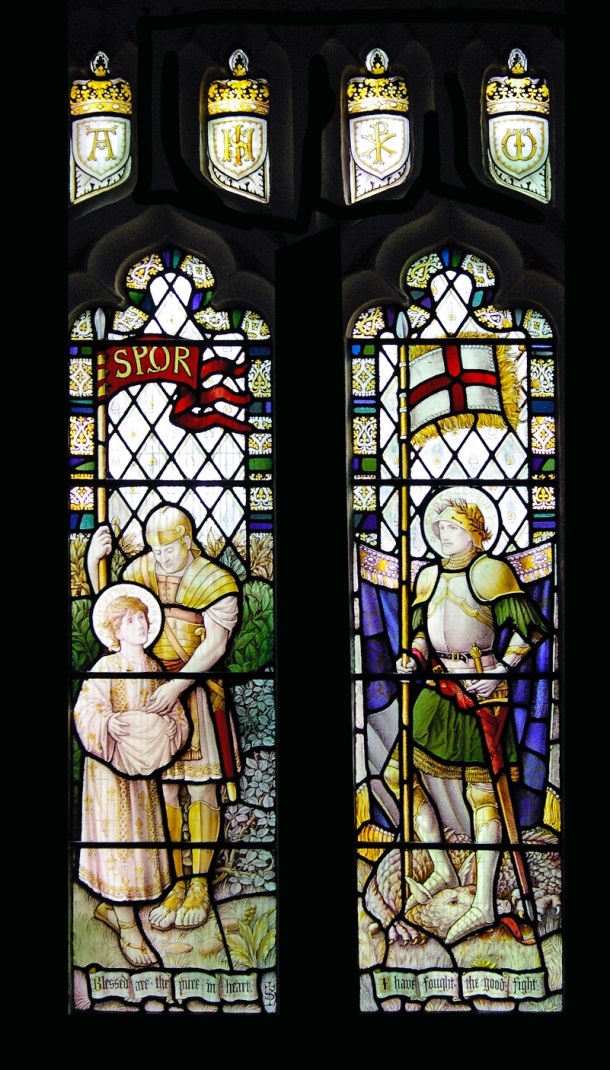 Location and Dedication
Set into the east wall of the south aisle of the church is a two light window in memory of two brothers, Lionel Trevor Tatham and Basil Owen Tatham. Although we do not know when this window was installed it must have been after Basil was killed in 1915. The inscription underneath the window reads;
"This window is dedicated by their parents to the glory of God in the memory of

Lionel Trevor Tatham. Born 12th October 1882, Died in May 1891 and Basil Owen

Tatham Capt. 3rd Btn E Yorks Reg born 25th January 1884. Killed in action at Ypres

Belgium on 23rd April 1915"
The parents were Arthur Thomas Tatham and Eliza Tatham formerly of Doddlespool Hall, Betley.
On Basil's death in April 1915 the Staffs Advertiser and the Crewe Guardian both reported him as the "oldest surviving son of Mr. Arthur Tatham of Doddlespool Hall". (Note – the Commonwealth War Graves Commission records show Kensington as the father's address at the time.) Clearly the family's relationship with Betley was important to the Tatham parents and St. Margaret's Church was the place for their sons to be remembered in perpetuity.
Tarcisius
According to history, Tarcisius was a twelve-year-old acolyte during one of the fierce Roman persecutions of the third century, probably during that of Valerian. Each day, from a secret meeting place in the catacombs where Christians gathered for Mass, a deacon would be sent to the prisons to carry the Eucharist to those Christians who had been condemned to die. At one point, there was no deacon to send and so Tarcisius, an acolyte, was sent carrying the "Holy Mysteries" to those in prison.
On the way, he was stopped by boys of his own age, who were not Christians but knew him as a playmate and a lover of games. He was asked to join their games, but this time he refused and the crowd of boys noticed that he was carrying something. Somehow, he was also recognized as a Christian, and the small gang of boys, anxious to view the "Christian Mysteries," became a mob and turned upon Tarcisius with fury. He went down under the blows, and it is believed that a fellow Christian drove off the mob and rescued the young acolyte.
The mangled body of Tarcisius was carried back to the catacombs, but the boy died on the way from his injuries. He was buried in the cemetery of St. Callistus, and his relics are claimed by the church of San Silvestro in Capite. He was later beatified and is regarded in the Eastern Orthodox and Roman Catholic Churches as the patron saint of altar servers and first communicants. His feast day is 15th August.
Read the Biography of Captain Basil Owen Tatham