Investigating your Faith
No matter where you are on your spiritual journey, at St Margaret's, we have run various groups to help us all explore our faith. These range from fellowship groups (otherwise known as home groups) to Alpha courses.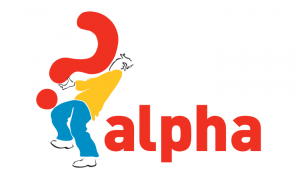 Alpha 2019
We're currently putting together our 2019 course to start in January. If you would like to know more information, or would like to attend, please contact us!
Alpha 2018
The Alpha Ministry in Madeley and Betley has been a great boom to our life as a church. Many have attended; many have helped with the catering; many have spoken at the sessions; and many have faithfully prayed for all involved. And through Alpha many of us have grown in our faith and confidence in Christ.
This year the group comprises 11 participants and 2 leaders – Jim Cartlidge and Peter Chantry. We are looking forward to a Confirmation Service on Easter Sunday evening with Bishop Geoff as our Confirming Bishop.
We have had some new speakers this year in the persons of Samantha Harrison and Linda Hough – Linda spoke on prayer and Sam on God's guidance. Both talks were very well received.
As in previous years, the group has been wonderfully supported by the prayers of the church and indeed the lovely catering – thanks to all and especially to Margaret Floyd and Hilary Laine for their co-ordination.
The class of 2018 has thoroughly enjoyed Alpha. How about YOU joining the Alpha group next year?
Peter Chantry and Jim Cartlidge
---
What is Alpha?
The Alpha course is an opportunity for anyone to explore the Christian faith. It's a safe place where people can come and ask questions, delve into issues and look for answers together.
---
What is Involved?
The Alpha course consists of a series of talks looking at topics such as "Who is Jesus?" and "Why and how do I pray?"
The normal chain of events is to relax and catch up over a meal (provided), listen to a talk, then have a time of open discussion.
---
Who is Alpha For?
Alpha is for anyone wanting to explore or investigate the Christian faith.
---
How Much Does It Cost?
We at St Margaret's feel that Alpha is part of our outreach, and as such, members of the congregation provide home cooked meals on a rota basis free of charge. We do have a donations bowl available throughout the course, whose proceeds go towards the cost of the away day.
---
Who do I Contact?
If you are interested in taking part in the next Alpha course we run, please contact the Rev Peter Chantry.