Investigating your Faith
No matter where you are on your spiritual journey, at St Margaret's, we have run various groups to help us all explore our faith. These range from fellowship groups (otherwise known as home groups) to Alpha courses.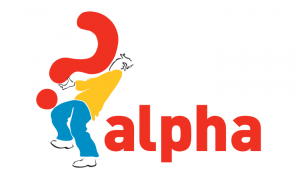 ---
What is Alpha?
The Alpha course is an opportunity for anyone to explore the Christian faith. It's a safe place where people can come and ask questions, delve into issues and look for answers together.
---
What is Involved?
The Alpha course consists of a series of talks looking at topics such as "Who is Jesus?" and "Why and how do I pray?"
The normal chain of events is to relax and catch up over a meal (provided), listen to a talk, then have a time of open discussion.
---
Who is Alpha For?
Alpha is for anyone wanting to explore or investigate the Christian faith.
---
How Much Does It Cost?
We at St Margaret's feel that Alpha is part of our outreach, and as such, members of the congregation provide home cooked meals on a rota basis free of charge. We do have a donations bowl available throughout the course, whose proceeds go towards the cost of the away day.
---
Who do I Contact?
If you are interested in taking part in the next Alpha course we run, please contact
Rev John Beswick Pallister